Once upon a time, city streets were lined with the bright and flashy neon of motel signs. The bigger and more elaborate the sign, the more likely the chance of catching the attention of the passing traveler. Sadly, many of these roadside motels and their neon signs have been left to deteriorate, met with the bulldozer, or become unsavory lodging. Which makes us even more excited about our mission to stay in as many as we can.
Aside from the Americana factor, one of the reasons that we love roadside motels is the ease of access, particularly helpful when traveling with your favorite four-legged friend. The majority of our time on the road is with our furry co-pilot, so we are always on the lookout for cool dog-friendly places to stay. In the last 25 years of road trips with our dogs, it has gotten considerably easier to find ap-paw-priate lodging, but we still find that it can take a bit of work. To help all of our furry friends and their people plan for future road trips, we have compiled a list of our favorite pet-friendly roadside motels.
---
The Amigo Motor Lodge began life in 1958 as the Monarch Motor Lodge, providing lodging for travelers along U.S. Highway 50, the one-time coast-to-coast highway referred to as the "backbone of America." Having changed little over the decades, a couple from Texas purchased the old motel in 2014 and completely renovated it into the minimalist yet modern Mountain Town-meets-Southwestern aesthetic that it has today. In addition to the renovated rooms, the motel also offers the option of spending the night in one of five Airstreams (though you'll have to leave the dog at home for that stay). The lobby has been redone to include a sunroom where you can enjoy a morning coffee, and if the weather permits, you can enjoy the outdoor fire pit, swings, hot tub, and giant teepee (perfect for cute dog pics).
We have had the luxury of staying at the Amigo twice (so far), and we love the funky, modern decor (red telephone for the win) and witty collateral throughout the motel, but what we love even more is that they are very pet-friendly. The rooms are modern and comfy yet still maintain an air of old-school roadside motel. We stayed in a King Room with more than enough space for the two of us and dog to hang out and eat dinner. The bed was comfy and the room dark enough that three-month-old Saxby even let us sleep until 6:30 am! Salida is a fun, funky town in a beautiful part of Colorado with tons of outdoor activities available just outside your motel room door. If you spend a night at the Amigo, do not miss a stop at Sweetie's Sandwich Shop to pick up some delicious, and we mean delicious, cookies before you head out for the day (the sandwiches are amazing too)!
---
Boots Court Motel sits at the "Crossroads of America," the intersection of Route 66 and Route 71, once known as the Jefferson Highway, one of the original auto trails that ran from Winnipeg, Canada to New Orleans. Built in 1939 by Arthur Boots in an art deco/streamline moderne style, each room had a covered carport and a "radio in every room". After many years of success and popularity, including a stay in room #6 by Clark Gable, and a number of owners, it eventually fell into disrepair before being purchased by two sisters at auction in 2011. Since then, they have been meticulously restoring the rooms to their 1949 appearance and even had the neon sign restored by the original sign maker. We had the great pleasure of staying here, and without question, this was one of the coolest and most authentically vintage places that we stayed on Route 66.
A night at Boots Court will cost you just $66 (chosen for Route 66) for a single and $71 (chosen for the cross-street, Route 71) for a double, an unbelievable deal for such a memorable experience. If the rate had been two or three times that amount, we still would have been begging them to take our money. With a short drive that day, we were waiting at the door when the office opened at 3pm. Warmly greeted by Debbie Dee, who provided some fascinating trivia and history about the motel and Carthage, she even escorted us to pet-friendly Room #9. Greeted by warm lights glowing and a vintage-looking radio tuned to a 1940s station when we opened the door, we'd been at Boots Court for ten minutes, and we were already in love. And the neon hadn't even come on yet. Running along the top of the buildings and outlining the windows, the Boots Court has always been identifiable by its architectural green neon. Restored and relit in 2016 after nearly 15 years of darkness, it is, in a word, awesome. Making for striking views on its own, we were treated to a gorgeous sunset that made it that much more breathtaking and memorable.
This was one of those places that makes it easy to imagine yourself in a different time. Sure, the radio and lights were modern, but there were none of the modern distractions that make it so easy to ignore what's around you. It's obvious that the restoration of the motel has been thoughtfully done in an effort to truly recreate the experience of a 1949 traveler. As mentioned, our room had a radio, but not a TV. Why? Because the town of Carthage didn't get television until 1953. Was the bed the most comfortable we've ever slept in? No, but that doesn't matter when you open the door with an actual key or pull up the era-appropriate chenille bedspread. However, the best part of our stay was the evening, which we spent playing gin rummy and sipping wine from plastic cups while listening to '40s tunes. Definitely a night we'll remember forever.
---
Opened in 1936, El Rey Court had 12 rooms and was created by the same developer as El Vado in Albuquerque (recently redone and on our list). Located on the original alignment of Route 66, just one year later, the route was moved from the Santa Fe loop to its alignment that is now concurrent with much of today's I-40. Thankfully, Santa Fe has always been a popular place to visit and El Rey survived. In the 1950s, the carports that accompanied each room were enclosed to create more rooms, and a pool was added. More rooms were added in the 70s and 80s. In the past few years, a neighboring motel was acquired, and the entire facility and grounds renovated and beautified.
There are several different room layouts, and each room is uniquely decorated with a combination of new and modern mixed with vintage elements of its former roadside motel days. Our first stay was in a room with a kitchen and patio, and we imagine that if no one had caught on, we could easily move in and stay for a while! Our other visits have had us in a patio room, which comes with a small seating outdoor area that overlooks the center grass area- perfect for walking your dog, which brings us to the question of dog-friendliness. Not only is your dog welcome in the room, but they can join you in the on-site bar, La Reina, for a craft cocktail. They even offered the "El Perro" package for our most recent stay, which included the pet fee, complimentary treat, and late check-out (for more cuddling).
Our first stay at El Rey was Finley's last road trip in March 2019, which makes it extra special to us. Since that first trip, we've been back to El Rey four times, making it somewhat of a tradition for Jen's birthday. We always try to stay in new places to experience as many vintage motels and hotels as possible, but we love El Rey so much that we keep coming back. Although the property is not huge, we love to wander around the buildings and courtyards, and it takes very little to imagine how it was back in the day. Santa Fe is one of our favorite places to visit, and we end up there two or three times per year. There are so many unique and cool properties, but be sure you don't miss an opportunity to stay at El Rey. And if you're hungry, grab lunch or dinner at La Choza– honestly, it's the reason we head to Santa Fe at least once a year!
---
Open since 1963, the Historic Route 66 Motel looks exactly like we imagined it did on the day it opened as the Royal Palacio Motel. Despite having a new name, the motel looks much as it did back in its mid-century heyday, thanks to the current owners who have done a fabulous job of remodeling and upgrading the property, including preserving many of the original furnishings. From the breeze blocks to the floor-to-ceiling windows to the retro turquoise-colored Naugahyde easy chairs, there is nothing not to love about this motel located in one of our favorite towns on all of Route 66.
The pet-friendly King Room that we stayed in was roomy, bright, and had the original (and very cool) sink of quartz inlaid in terrazzo. A short walk to Del's Restaurant makes for an easy take-out dinner that you can enjoy in the room. Post-dinner and dessert (we enjoyed our piece of Ugly Crust Pie from the Midpoint Cafe in Adrian), we relaxed into the turquoise chairs for a perfect night of gin rummy and Frank Sinatra. Though there is an on-site espresso shop, Circa, that we've visited on previous trips through Tucumcari, it was closed when we were there, and its future plans were uncertain. We're hopeful that it will reopen before travels take us through Tucumcari again. And we plan to be back soon!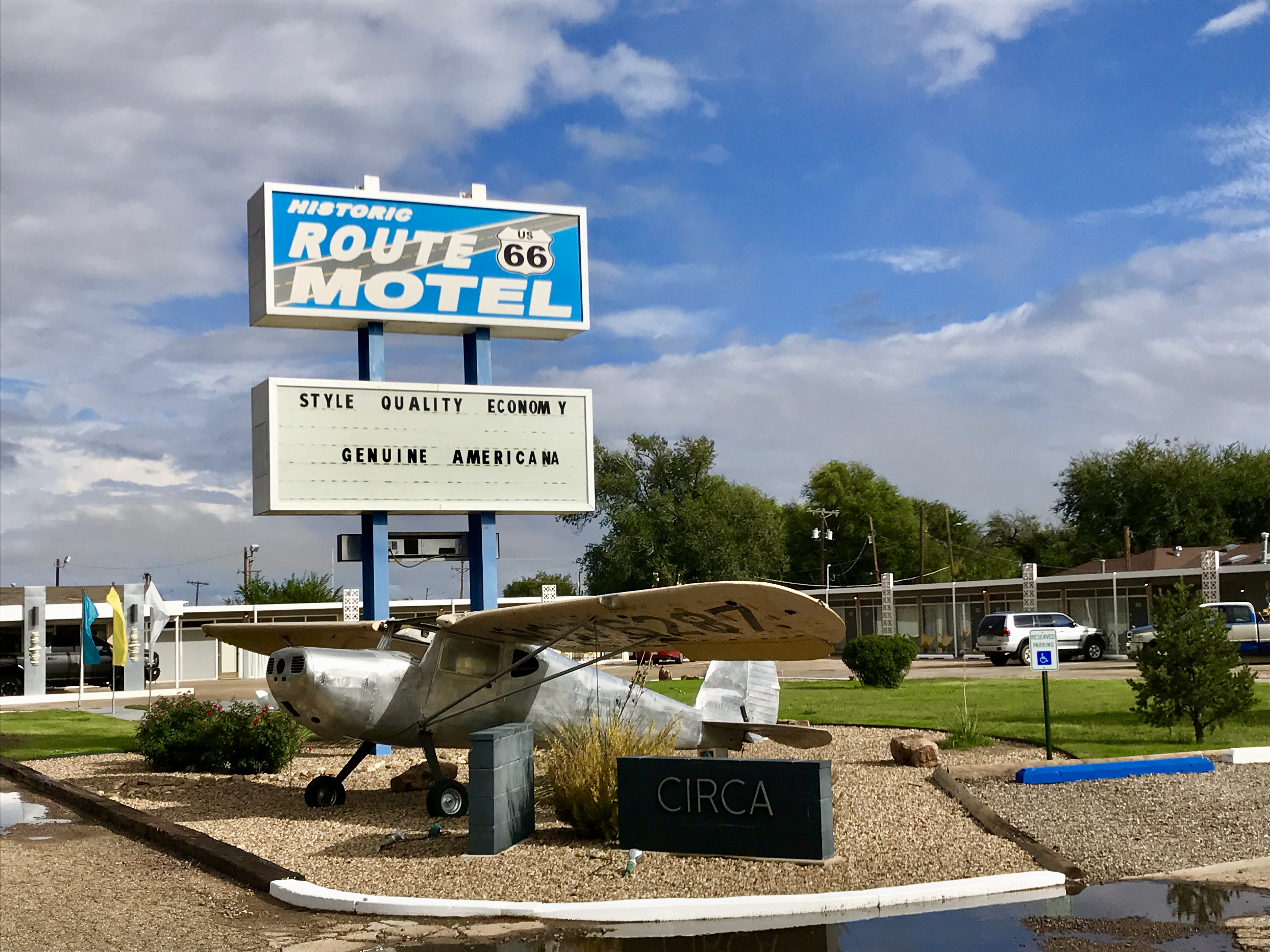 ---
If you've ever driven I-80 through Wyoming, you have seen the signs for Little America. They are impossible to miss. Our Loneliest Road trip in 2017 took us home via Wyoming, and we couldn't pass up an opportunity to stay at an almost legendary roadside facility. Built in 1952, Little America was designed to be a haven in the middle of nowhere for travelers along the coast-to-coast Lincoln Highway. The name was borrowed from Admiral Richard Byrd's Antarctic base camp, as the creator thought of it as a refuge for those traveling through a remote area of the West. For many years, the logo for Little America was a penguin as another tribute to Admiral Byrd. While no longer used in marketing, two large penguins can still be found atop the registration building; and an actual stuffed penguin, Emporer, whom the original owners wanted for a live mascot but tragically did not survive the journey from Antarctica, now resides in a case in the lobby.
What began as a gas station with two fuel pumps, a small cafe, and twelve rooms, has turned into a roadside behemoth with 55 gas pumps, 140 rooms, and a giant travel center with a store, cafe/deli, facilities for truckers, and, of course, the $0.75 ice cream cones that you've been seeing billboards for over the last hundred miles as you drove in for your stay. We've stayed twice at Little America, both times in a Queen Room, as they are the only ones that are dog-friendly. Walking into the room is like stepping back in time, in a good way. They are small but clean and still have (what we assume are original) Mamie Eisenhower-inspired pink bathrooms, which we love, but don't see very often anymore. Once we settled into the room, we walked over to the cafe for a perfect roadside dinner of chicken fingers and a burger, which we took back to our room and enjoyed from the comfort of our camping chairs set up outside the front door. Post-dinner, we went back for those very hyped $0.75 cones, which were every bit the soft serve goodness we anticipated. We then spent some time wandering the grounds and checking out the different buildings, added over time in eras made evident by their architecture. Most importantly, we had Finley pose with the resident buffalo and enjoyed a summer evening in what could have been anytime over the last 50 years. It was an unexpectedly magical stop, certainly one we hadn't expected.
---
If you've ever experienced a drive-in movie, you can appreciate the comfort and convenience of being in your car. Now imagine watching a movie from the comfort of your motel room. You can do just that at the Best Western Movie Manor in Monte Vista, CO. A vintage mid-century roadside motel, Movie Manor was built so that all of the rooms in the motel have a view of one of two giant movie screens (one faces the motel, the other requires a car). The Star Drive In Theater was built in 1955 and welcomed cars until a 14-room motel from which you could watch movies was built in 1964, creating Movie Manor, potentially the only drive-in in the world with an attached motel, and a pet-friendly one at that. Over the years, additional rooms have been added that allow you to watch from the room, just not from the bed as you could in the original rooms.
Once the sun goes down and the movie starts, you can pull some chairs up to the window, turn up the in-wall speakers, and watch the movie almost like you were at home, just on a much bigger screen. If you stay in the rooms, you can, of course, provide your own snacks and beverages, but if you've got a hankering for real theater food, you can walk over to the snack shack and pick up some popcorn, Junior Mints, and a soda before the show and take them back to your room. The rooms, named for celebrities- we've stayed in the Burt Lancaster room twice- are clean and basic but provide a window in the past and a once-in-a-lifetime Americana experience.
---
We enjoyed staying in this wonderfully renovated mid-century roadside motel on our trip to pick up Saxby in 2019. The current owners (who did the most recent renovations) stayed true to its roots with a fun and funky retro vibe in the rooms and lobby. Opened in 1950, with an awesome sign that has been around since the 50s or 60s, the Rocket Motel is perfectly located to take advantage of all of the must-see attractions in the Black Hills. And there are many!
No trip to the Black Hills is complete without a visit to Mount Rushmore. Awe-inspiring when you stop to realize that it was carved by hand, we like to imagine what it looked like when Roger Thornhill and Eve Kendall scuffled in the cafeteria and lament the fact that Vandamm's house was, sadly, not an actual structure. Also, a drive on Iron Mountain Road/16-A headed south is a Black Hills experience not to be missed!
---
Being the seekers of Americana that we are, we were super excited to stay in some vintage Route 66 motels. The first one of our 2017 trip was the Wagon Wheel Motel in Cuba, MO. One of the first businesses that you encounter as you head into Cuba from the east, what struck us was the lack of modern development around the motel. It wasn't hard to imagine when the Wagon Wheel was the only thing along this stretch of road, the hum of its neon sign a beckoning call to hungry and tired travelers (please excuse the Finley noises in the background of the video, he was excited to be out of the car).
Opened in 1938 as the Wagon Wheel Cabins and renamed the Wagon Wheel Motel in 1947, it is the oldest motel still in operation on Route 66. Originally, nine cottages constructed of local Ozark sandstone provided a room with a private bath and an enclosed garage. In the 1940s, the garages were converted to motel rooms. In addition to the modern rooms, the Wagon Wheel also offered a restaurant and gas station. The Wagon Wheel Café was a popular restaurant and was well-reviewed in Duncan Hines' travel guide. As with most Route 66 businesses, it changed ownership a few times before falling into a state of disrepair. In 2009, the property was purchased and meticulously restored. The café is now a gift shop full of Route 66 souvenirs and other wares. If you're looking for a bite to eat, Missouri Hick Bar-B-Q is just next door and offers a good meal, excellent service, and a very dog-friendly patio.
From the moment we pulled up, the aura of yesteryear was everywhere, from the beautifully restored buildings to the vintage gas pumps and '40s-era Chevy parked out front. The vintage experience continued at check-in with the handwritten registration cards and keys hanging on a pegboard, each with an old-school plastic engraved key fob. We stayed in #18, a small room in a back building that was once a garage but more recently converted into rooms. Since we had Finley with us, we weren't able to stay in one of the original rooms, but we appreciate that the Wagon Wheel does offer two pet-friendly rooms. Our room was clean, quiet, and nicely decorated with a wagon wheel and some Route 66-themed decor. One of the best parts of our stay was listening to the click and hum of the neon sign as its arrow and wheel blinked on and off, just as it had since 1947.
---
Have you slept in a wigwam lately? Along Route 66, there are two Wigwam Villages, Village #6 in Holbrook, AZ and Village #7, in Rialto, CA. Built in the 1930s and '40s, there were originally seven Wigwam Villages constructed in six different states. Today, only these two and Village #2 in Cave City, KY still exist. Back in the late 1930s, Chester Lewis was passing through Kentucky and came across a Wigwam Village. His interest piqued, Mr. Lewis purchased the plans and the right to use the name from the original developer, Frank Redford, intending to build a Wigwam Village in Holbrook. Part of the purchase agreement was that Mr. Lewis would install a coin-operated radio in each room, and the monies collected from those radios would be sent back to Mr. Redford. Almost 70 years later, the radios no longer exist; but the wigwams, which are misnamed as they are actually tepees, are a step back in time and an awesome way to experience true Americana.
Although planners by nature, we attempted to travel Route 66 without having every stop determined in advance; however, we made an exception for the Wigwams. Knowing that availability can be scarce, we planned a large part of our trip around when we could get a room and it was well worth it. Looking virtually unchanged from postcards in the 1950s, our night spent in Teepee #8 in 2017 was vintage at its best, with handmade original log furniture and a bathroom with original everything. The only signs that we were in the 21st Century were the window-unit air conditioner and a small television. Always ones to embrace our steps back in time, we enjoyed some snacks and beverages on the bench outside while admiring a gorgeous sunset, followed up by a serious game of gin rummy played on a small section of the queen-sized bed that Finley was willing to relinquish. A perfect night, whether it's 1957 or 2017, if there is just one vintage place that you must stay on Route 66, this is it.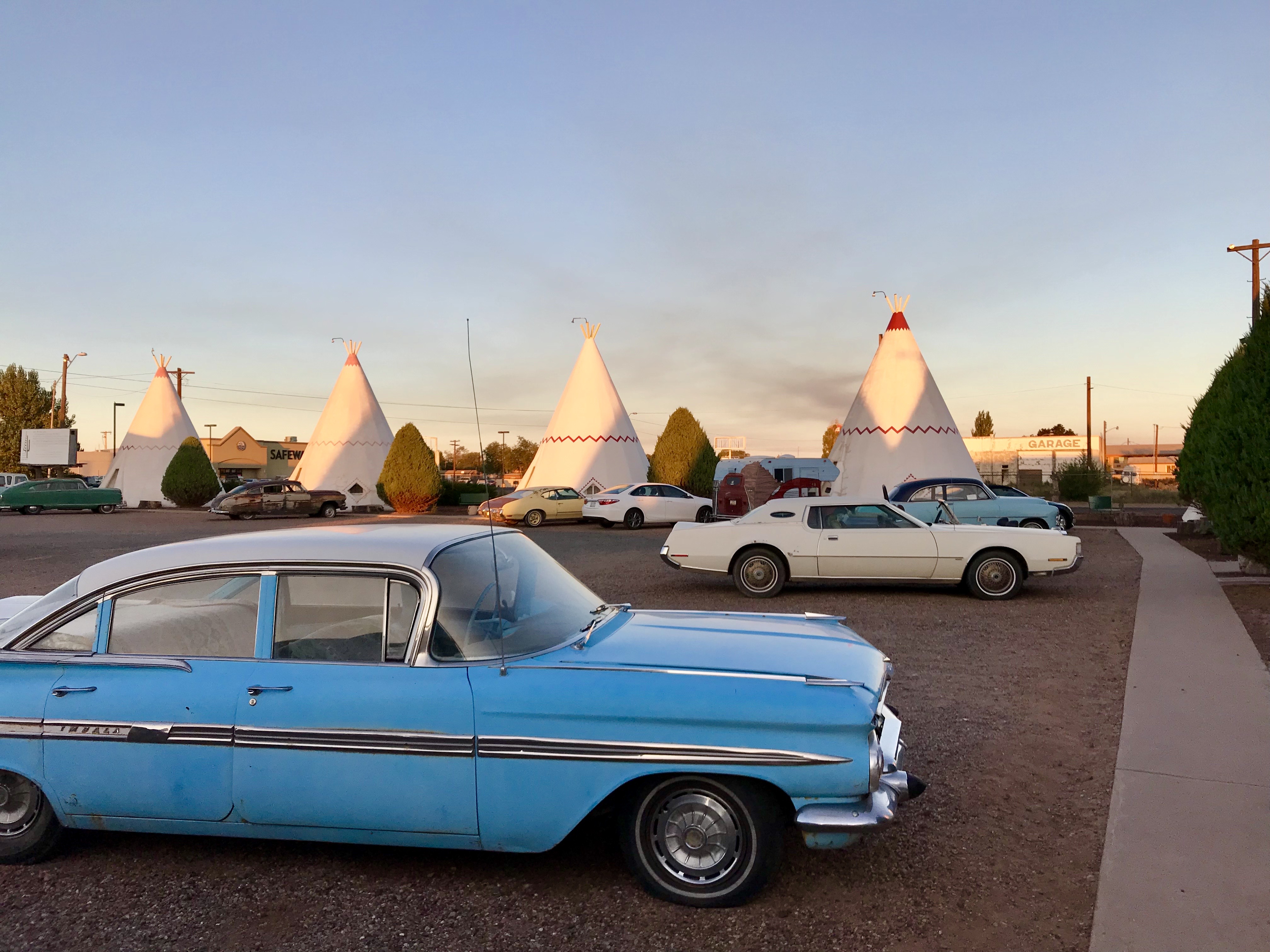 ---
Honorable Mentions
Although it is now a Best Western, and it's easy to dismiss chain hotels as boring and homogenous, not all of them are. The Best Western Mission Inn in Las Cruces began life in the 1940s as the Mission Motel. It was originally a single story with a tile roof and a large red sign beckoning to travelers. Postcards from the 1950s show happy children in the pool surrounded by those fabulous multi-colored aluminum patio umbrellas seen at pretty much every motel. It's unclear when the second floor was added and when it was sold to Best Western, but it still feels like a 60s-era motel, particularly with the circular breeze block walls and the pool located in the middle of the complex.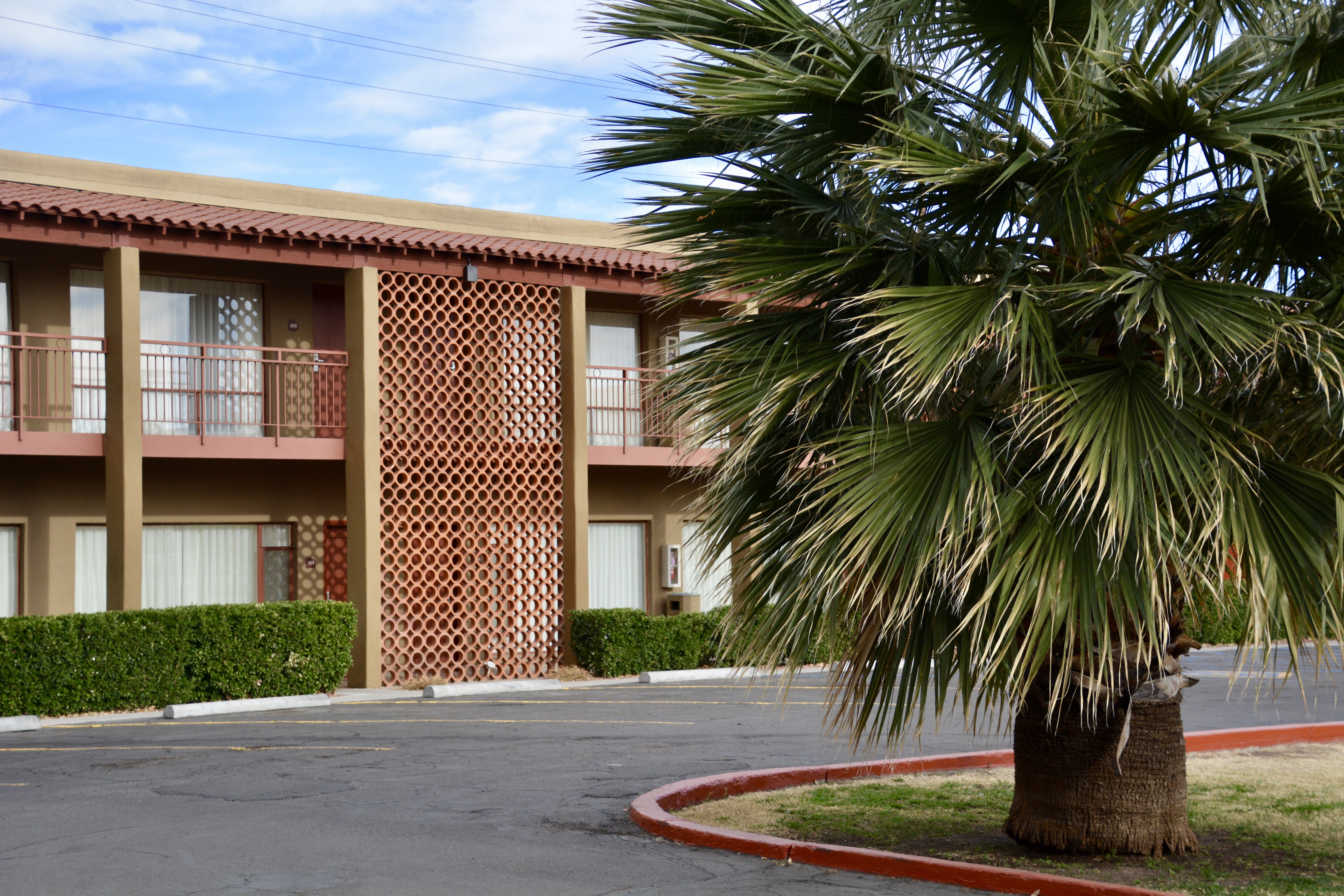 ---
It's impossible to visit Steamboat Springs and not drive by the Rabbit Ears Motel and its very distinctive sign. Greeting visitors since the motel opened in 1953, the 7' 6" rabbit head and ears sitting atop an eye-catching pink sign is one of only three neon signs that remain from the days when a trip down US Highway 40 through town was packed with glowing neon, businesses continually putting up bigger and bigger signs to try and capture the mighty tourist dollar. We recently had a chance to spend a night at the Rabbit Ears. The rooms were nice, though not special; however, we loved taking in the full glow of the sign ablaze at night, as well as the convenience and ability to walk to great restaurants downtown (two thumbs up for Salt & Lime for great food and dog-friendliness!).
---
Not exactly a tourist destination, Shamrock is home to one of the most recognizable remnants of the heyday of Route 66, the Tower Station and U-Drop Inn Cafe. The Western Motel, located on Route 66, happens to be across the street from the building, allowing for an opportunity to catch the station in all of its neon glory. You may recognize the building as it was the inspiration for Ramone's House of Body Art in the Disney movie, Cars. Although our travels didn't require a stop in Shamrock, we planned our trip back from Oklahoma last fall so that we could spend the night in order to enjoy the neon. Built in the 1960s in a spot where a Texaco station once stood, the motel is simple, clean, and dog-friendly. While not as memorable as some places we've stayed, it's a great place to stay if your travels take you through the Texas Panhandle. Just be sure not to go to sleep too early so that you can walk across the parking lot and get photos of some pretty spectacular neon.